If you're looking for something to do this weekend, look no further than one of my favorite events of the year, the Evanston Literary Festival, which runs from May 12th through 20th and is now in its fourth year. Last week I had the opportunity to speak with festival co-organizer John Wilson. Read on for more about the history of the Evanston Literary Festival, a preview of a few of this year's many events and more.
Andrew DeCanniere (AD): I know that last year's festival was just so full of so many different interesting events, and it looks as though this year's festival will be no exception, so I am so glad to once again have the opportunity to share it with our readers. For those who may not be as familiar with it, can you share a bit about the festival's background?
John Wilson (JW): Sure. This is the fourth annual Evanston Literary Festival. Lynn Haller and I started it in 2015 as a way to bring more attention to Evanston's literary community and to really try and organize some interesting literary events. So, we do it in conjunction with Northwestern University's Spring Writers Festival, which their Creative Writing Department does, as well as the Evanston Public Library, Bookends & Beginnings Bookstore and other partners around Evanston.
Basically, it is a series of events being held May 12th to 20th that try to highlight a variety of different poetry, fiction, non-fiction — all kinds of different literary events that are going on around Evanston.
AD: And it seems as though there really is quite a lot going on.
JW: One of the new events we're doing this year is the Evanston Book Fair, which is going to be on May 12th. That's a showcase for local authors, publishers and literary organizations to sell their work to the public. The readers and writers will have the opportunity to talk with one another. So, we're excited to have that event.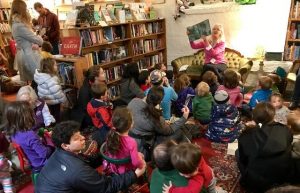 AD: It sounds like a wonderful opportunity for people to familiarize themselves with much of the local literary community.
JW: It really is. It's a great opportunity to meet authors and see some of the enormous variety of the different kinds of work being done in the area.
AD: Right. I feel as though there may be a fair number of people out there who may not even be aware of the local publishers and authors who call Evanston home.
JW: And we're not always aware of everybody in the area ourselves, so there are a lot of interesting people we'll get to meet and have quite a variety of publishers who will be there.
AD: And it looks like some literary non-profits will be taking part as well.
JW: Yeah. We'll have some of them involved — like Shorefront, Rhino Poetry and Chicago Publisher's Resource Center. There are a lot of different kinds of publications and literary organizations as well as presses like Northwestern University Press.
AD: And then I know there is over a week of other events that will be taking place around Evanston in which you've partnered, as you've said, with the Evanston Public Library or with a local store like Bookends & Beginnings.
JW: One is May 12th, which is the Writers Resist event at which we will have a dozen different authors reading work about political activism. We think that will be really interesting. We also have several events at Comix Revolution. They're doing some events with local comics writers as well as a Micro Comic-Con on May 19th and a panel discussion on diversity in comics on the 18th. We also have a lot of great events coming up at the Evanston Public Library with some really interesting people including the National Book Award winner, Charles Johnson, who was born and raised in Evanston. We have Daniel Borzutzky, another National Book Award winner, who will be talking about his new book of poetry. Then there's Nadine Strossen and Geoffrey Stone who will be at Bookends & Beginnings who will be doing an event on May 20th about hate speech. So, there's an enormous number of really interesting events coming up.
AD: And I certainly think that with all that is going on, the Writers Resist event is particularly timely.
JW: Right. Northwestern's College Democrats are also holding an event with David Faris who has a book about politics out now [It's Time to Fight Dirty: How Democrats Can Build a Lasting Majority in American Politics]. We're trying to do a lot of events like that. There's one at Bookends & Beginnings with Megan Stielstra and Renee Engeln that talks about female empowerment in the publishing world. So, we have a lot of really interesting things going on and a lot of these are local authors, which we try try and emphasize a lot. For instance, we also have Daniel Kraus who is from Evanston and is the co-author of The Shape of Water. He worked with Guillermo del Toro, the Oscar-winning director.
AD: With so many events going on, one of the things that I really do appreciate, as I've said previously, is how the events are spread out over multiple days. I think that really makes it easier to attend everything that one would like to attend.
JW: We try and avoid having too many conflicting events when we can, so that people are able to go to a wide variety of different events that are interesting to them. I really hope people from all over the area come out, because it's not just for people in Evanston, and that they make a day of it and go to several events and hear a lot of interesting speakers.
AD: Well, I certainly think it's fair to say there really is something for everyone, political or not.
JW: I think it's great for everyone. There really is an enormous variety that covers the whole landscape of writing and publishing around Evanston.
AD: While I don't have children myself, I feel like I should also point out that there are some events that are geared toward kids and families as well, lest some people be unaware it really is a very family-friendly event.
JW: Absolutely. There will be some children's story times, and then the Evanston Book Fair will also include some children's authors, so we want to encourage the whole family to come out.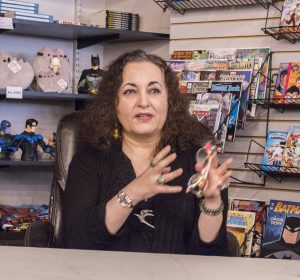 AD: Speaking of children's literature, and as someone who is very eco-conscious, another an event that stood out to me has to do with environmental wisdom in children's literature, which just struck me as such an interesting topic.
JW: Right. That's the discussion with Liam Henegan and Betsy Bird at the Evanston Public Library about how environmentalism is a part of children's literature. It's an event that is aimed more at adults but I think it really interesting a lot of people about the content of children's literature. We also have another environmental event on May 18th at Bookends & Beginnings with Amy and Dave Freeman who have a book about trying to save the Boundary Waters Canoe Area Wilderness. They'll be stopping by as part of their 1700-mile bicycling tour around the country.
AD: That sounds like quite the trek, especially to someone like me. I've never really gotten past the training wheels part of learning to ride a bike, but it also sounds like a wonderful story and such a worthwhile thing to do.
JW: I'm not very good at it, either, but you don't have to bike to these events. You can always drive or take public transportation. There are a lot of options in Evanston. I think they're also towing a canoe while they do it. So, it's even more than just a 1700-mile bike ride.
AD: Are there any other events you'd like to highlight?
JW: It's always hard to narrow down the events to talk about, but I think there's just a great variety of these events at Northwestern University and around Evanston, and we think it's a great event. Hopefully a lot of people will show up and get to experience a lot of these different kinds of events, and people can always go to our website to look at the schedule and to get more information.
The Evanston Literary Festival takes place at various venues around Evanston, beginning on May 12, 2018 and continuing through May 20, 2018. For a complete schedule of events and more information about participating authors, please log onto the festival's website. You can also follow the Evanston Literary Festival on Twitter, Facebook and Instagram.