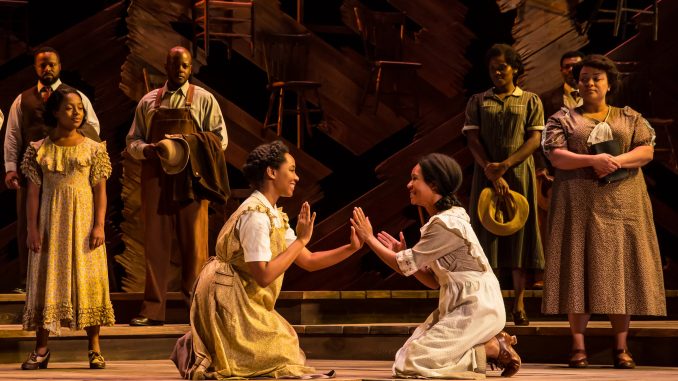 Presented by Broadway in Chicago, the Tony Award-Winning Broadway revival of the musical, The Color Purple, is now on tour in Chicago at the Auditorium Theater of Roosevelt University (50 E. Congress Pkwy.) for a limited two-week engagement July 17 – 29, 2018.
Based on the Alice Walker's Pulitzer Prize-winning novel and the Warner Bros./Amblin Entertainment motion picture, The Color Purple is adapted for the stage by Tony- and Pulitzer-winner Marsha Norman, with music and lyrics by Brenda Russell, Allee Willis and Stephen Bray. Tony Award®-winning director and scenic designer John Doyle (Sweeney Todd, Company) recreates his award winning work for the national tour, alongside costumes by Ann Hould-Ward, lighting by Jane Cox, sound by Dan Moses Schreier and wig & hair design by Charles G. LaPointe.
The revival of The Color Purple opened to great acclaim in summer 2013 at London's Menier Chocolate Factory, followed by a Broadway bow on November 10, 2015 at the Bernard B. Jacobs Theatre. The Color Purple went on to win two 2016 Tony Awards, including Best Revival of a Musical, two Drama Desk Awards, including Outstanding Revival of a Musical, the 2017 Grammy Award® for Best Musical Theater Album and a Daytime Emmy®. The Color Purple played 483 performances on Broadway, closing on January 8, 2017.
The North American tour is produced by Scott Sanders Productions, Roy Furman, Troika Entertainment, David Babani, Tom Siracusa, Caiola Productions, James Fantaci, Ted Liebowitz, James L. Nederlander, Darren Bagert, Candy Spelling, Adam Zotovich, Eric Falkenstein/Morris Berchard, Adam Blanshay Productions, Tanya Link Productions, Jam Theatricals, Independent Presenters Network and Carol Fineman.
The Color Purple blew me away. It was an unforgettable and intensely moving and powerful revival of the beloved novel and Academy Award-nominated film, which are among my favorites. I loved the music and songs, which were a mixture of jazz, gospel, ragtime, and blues. The musical mesmerized me from when the curtain first went up until the cast took their final curtain call.
The story takes place in the early 20th century in a small town in rural Georgia, and spans through decades of the life of Celie (teen through middle age), who is a poor black woman who endures racism, sexism, while discovering her own sexual identity, hardship, heartache, and suffering. She and her fellow women stand up to the men who abuse and suppress them and their rights as women, while also facing racial discrimination in the South.
The set and stage design created a haunting feeling, simple, yet extremely effective when used to tell Celie's story. The simplicity of the set, which consisted of rows of crossed pieces of wood with chairs attached on the walls, assisted with the seamless scene changes, while allowing the performers, the story, and the music, to shine.
As for the music and the score itself, I felt connected to each character, whether good or evil, due to the lyrics and the songs, which were realistically raw.  I was immediately drawn in and felt several emotions throughout the entire production.
Each individual actor in The Color Purple was supplemented by the strength of the casts' performance. The title character, Celie, is played by Andriana Hicks, whose portrayal of her heroine was  heartbreaking and passionate. Celie is married off as a young teenager to an abusive, subservient husband, called Mister (Gavin Gregory). Celie's only joy in the world is her younger sister, Nettie (N'Jameh Camara), and when Mister attempts to rape Nattie, she vanishes and Celie fears her dead.
As the years pass by, Celie, still submissive to Mister, is slowly being reborn and coming back to life. She becomes aqainted with and develops feelings for Mister's mistress, Shug Avery (Carla R. Stewart) a strong and brave woman with optimistic views, who inspires Celie to make something more of her life. Celie's step daughter-in-law is Sophia is played by Carrie Compere, who is perfectly cast with her strong voice, sheer intensity, and humorous scenes. She stands up to and intimidates whomever mistreats the people that she loves and cares about.  In each scene that Sophia was in, Compere stole the show with her amazing performance, frequently being cheered and applauded in by the audience.  A strong and talented supporting ensemble included Darnell Abraham, Amar Atkins, Kyle E. Bard, Angela Birchett, J. Daughtry, Erica Durham, Bianca Horn, Mekhai Lee, Gabrielle Reid, C.E. Smith, J.D Webster, and Brit West.
Overall, The Color Purple is an emotional and joyous ride involving a girl turned woman who suffers constant hardship and abuse, yet later in life turns her life around. She finally takes a stand for herself by the people who mistreated her and everyone she loves. The musical will only be in Chicago for a very limited engagement-do not miss this amazing opportunity to see the The Color Purple while it is in town-you will not regret it.
*Photos: Courtesy of the Color Purple (Matthew Murphy)

For more information, please visit the colorpurple website.
PERFORMANCE DATES

Tuesdays at 7:30PM
Wednesdays at 7:30PM (additional performance on July 25 at 2PM)
Thursdays at 7:30PM
Fridays at 7:30PM
Saturdays at 2:00PM & 8:00PM
Sundays at 2:00PM (additional performance on July 22 at 7:30PM)
TICKET INFORMATION
Individual tickets for THE COLOR PURPLE at the Auditorium Theatre of Roosevelt University (50 E. Congress Pkwy.) range from $27 to $100 with a select number of premium seats available. Tickets are available now for groups of 10 or more by calling Broadway In Chicago Group Sales at (312) 977-1710. Tickets are available at all Broadway In Chicago Box Offices (24 W. Randolph St., 151 W. Randolph St., 18 W. Monroe St. and 175 E. Chestnut), the Broadway In Chicago Ticket Line at (800) 775-2000 and online at their website.   
There is a digital lottery that is being offered, powered by Broadway Direct, where Twenty-eight tickets are sold for every performance at $25 each. The lottery happens online only the day before each performance.  Seat locations vary per performance.
HOW TO ENTER
Click the "Enter Now" button for the performance you want to attend.
Fill out the entry form including the number of tickets you would like (1 or 2). Patrons will receive a confirmation email once they have validated their email (one time only) and successfully entered the lottery.
After the lottery closes, patrons will be notified via email within minutes as to whether they have won or not.
Winners have 60 minutes from the time the lottery closes to pay online with a credit card.
After payment has been received, patrons can pick up tickets at the Auditorium Theatre of Roosevelt University (50 E. Congress Pkwy.) no sooner than 30 minutes before show time with a valid photo ID.
ADDITIONAL RULES
Limit 1 entry per person, per performance. Multiple entries will not be accepted. Patrons must be 18 years old and have a valid, non-expired photo ID that matches the names used to enter. Tickets are non-transferable. All lottery prices include a $3.00 facility fee. Ticket limits and prices displayed are at the sole discretion of the show and are subject to change without notice. Lottery prices are not valid on prior purchases. Lottery ticket offer cannot be combined with any other offers or promotions. All sales final – no refunds or exchanges. Lottery may be revoked or modified at any time without notice. No purchase necessary to enter or win. A purchase will not improve your chances of winning.