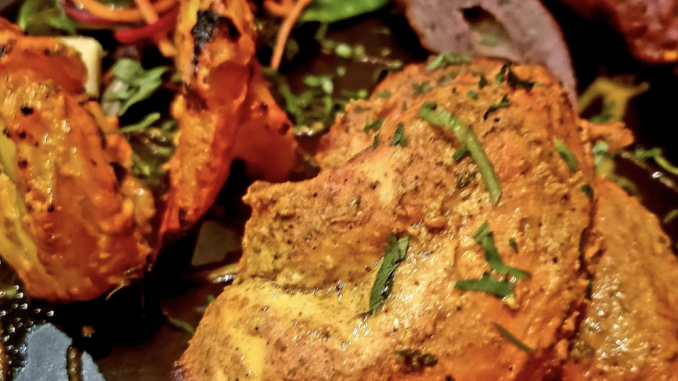 It's not every day that you find a successful restaurant in LA that has managed to actually LAST! A Spice Affair in Beverly Hills has now added some authentic flair and joined the elite on Restaurant Row.
Located amongst some of LA's renowned high end restaurants in the city, A Spice Affair, prides itself on merging traditional dishes with a modern flair. Originality starts right when you walk in the space. A luxurious evening spans far beyond the meal itself.  Rich dark burgundy hues highlighted with gold accents welcome you into the lavish space. As you sit and take in the calming ambiance you'll quickly notice that your taste buds will soon be overjoyed!
Sadly, LA does not have a ton of Indian Restaurants so this was a quick favorite! We started our dinner in true fashion by beginning our meal with a pineapple quencher, a refreshing twist (tandoor smoked pineapple, roasted onion powder served chilled.) This drink quickly opened our palates and the extensive flavor on deck.
The Appetizer Sampler was a nice way to try a few of the classic dishes from Punjab, India. Complete with tandoori chicken,(BBQ Chicken marinated with spices,)  jumbo prawns delicately marinated with yoghurt, lemon, garlic and fine herbs, and lamb bits. The lightly fried cauliflower is also a MUST! Topped with a few scallions, this dish was highly craveable and a nice touch.
Other notable items are the Dum Chicken Biryani (boneless chicken, basmati rice simmered in saffron strands topped with raita,) and the butter chicken which is a local favorite!
Open for lunch and dinner, with a lounge menu and full bar, choose between traditional dishes like Butter Chicken, Rosemary Black Pepper Chicken Tikka (a nice twist on a classic,) or experience signature breads like Garlic & Chive Naan or the Naan Trio which incorporates a variety of spices and cheeses with a trio of chutneys and yoghurt.
From the appetizers to the main course there is simply no shortage of flavor in each and every dish. A Spice Affair is more than a delicious restaurant – it's a celebration of heritage.
Spice Affair
50 N La Cienega Blvd Suite 120
Beverly Hills, California 90211
(310) 400-6800