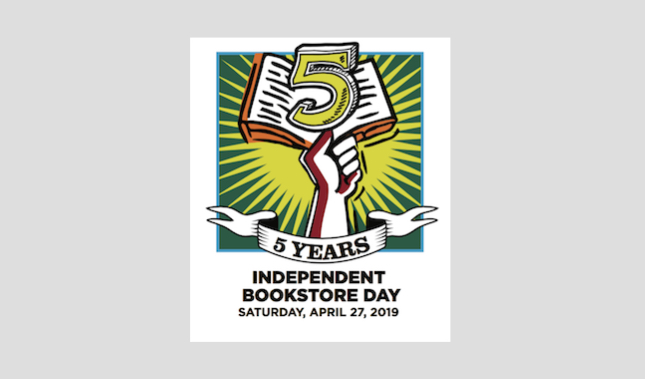 With Independent Bookstore Day coming up this Saturday, April 27th, I recently had yet another opportunity to reach out to a number of local independent bookstores in the Chicagoland area — some of which have been fixtures in their communities for decades, others which have only recently opened their doors. While the following does not, by any means, represent an exhaustive list of the fine independent booksellers in our area, they do represent some of the very best in and around Chicago.
The Book Stall
811 Elm Street
Winnetka, IL 60093
847-446-8880
Visit the store website here
The Book Stall has been around, at various locations, for more than 75 years. Conveniently connected to Peet's Coffee, the Book Stall sells a wide range of titles. We have a large children's section with a number of staffers who are former teachers or librarians and can help select books for any age or interest. The Book Stall also carries a large selection of cookbooks as well as art, history, biography, science and mystery. Our dedicated staff of readers works to provide great customer service – helping choose the right book, wrapping and shipping as needed and special ordering specific titles. We have numerous events both in the store and at other venues. We have hosted everyone from Hillary Clinton to David Ross of the Cubs.
We're very excited to celebrate Independent Bookstore Day and have a busy day planned! We'll begin with our regular 10:30am storytime for the pre-school crowd with guest star Katie McElligott who will read from her new book, There's Nothing Scary with Harry. We're delighted to be hosting the incredibly talented New Trier musicians, The Dewdroppers as they play classic jazz and we pour mimosas. At 2:30, we'll host a poetry reading, The Age of Influence. Featured poets Ruth Behar, Marc Frazier, Ann Hudson, John O'Connor and Jessica Walsh will read from their own work as well as from those poets that have influenced them. As usual, Book Stall staffers will show off their culinary skills and bake treats from some of our favorite cookbooks. We'll have activities for the kids all day and be raffling off prizes. We look forward to seeing all our friends at this celebration of books and bookstores around Chicagoland and the country!
Recommended Reads…
The Other Americans by Laila Lalami
A diverse cast of characters, deeply divided by race, class, and religion tell their stories in the beautifully written novel. Secrets, love, and hypocrisy are deftly explored by this very gifted writer.
Save Me the Plums by Ruth Reichl
Reichl delights with another memoir writing about her unlikely rise to become editor-in-chief of Gourmet magazine and the challenges she faced.
Fifty Things that Aren't My Fault by Cathy Guisewite (of Cathy comic fame)
Writing with her trademark humor, Cathy observes life as a middle-aged woman.
The Matriarch: Barbara Bush and the Making of an American Dynasty by Susan Page.

A compelling read by an excellent journalist.
The Dial Bookshop
410 S. Michigan Ave.
Chicago, IL 60605
Visit the store website here
The Dial Bookshop is a new and used bookstore settled on the second floor of the historic Fine Arts Building. We carry books in a wide variety of genres from art and architecture to science and psychology. We have a thoughtfully curated selection of stationary and writing supplies. We opened in 2017 after finding out that the space's then occupant of twelve years — a bookshop called Selected Works — would be closing. Since the Fine Arts Building had been home to two important literary magazines (The Dial & The Little Review) and several bookstores (including one designed by Frank Lloyd Wright), we felt called to carry on the literary tradition in the building.
We will be open from 11-5 on Independent Bookstore Day with coffee and treats all day. We are also participating in the #ChiLoveBooks passport challenge.
Recommended Reads…
Crossing to Safety by Wallace Stegner. It's a warm and comforting read — more portrait than plot — about marriage and friendship. I found something to relate to in every one of the relationships in this book.

826CHI / The Wicker Park Secret Agent Supply Company
1276 N. Milwaukee Ave.
Chicago, IL 60622
773-772-8108
Visit 826CHI's website here
826CHI is a nonprofit writing, tutoring, and publishing center dedicated to amplifying the voices of Chicago youth. We offer tuition-free writing programs to over 3,500 Chicago students ages 6-18 each year. Every single one of those students leaves our programs a published author.
We distribute our students' writing to libraries, classrooms, and independent bookstores—including the Wicker Park Secret Agent Supply Co., which is housed in the front of our space. The Wicker Park Secret Agent Supply Co. is a store with a not-so-secret mission: our wares encourage creative writing and imaginative play and trigger new adventures for agents of all ages. Every purchase supports 826CHI's free programming.
On Independent Bookstore Day, we'll be offering prize wheel spins with every purchase, so customers can win everything from t-shirts to tomes by 826CHI students. Apart from Independent Bookstore Day, here are our upcoming events:
Secret Agent Storytime, 4/7, 11am-12pm
Your mission, if you choose to accept it, is to sing, dance, read books, and make crafts with Agent Zach and your friends, parents, and siblings on the first Sunday of every month at the Wicker Park Secret Agent Supply Co. All agents ages 0-4 and their grown-up accomplices welcome. Tickets are free with a $5 suggested donation to 826CHI's free writing programs.
Secret Agent Storytime, 5/5, 11am-12pm
Your mission, if you choose to accept it, is to sing, dance, read books, and make crafts with Agent Zach and your friends, parents, and siblings on the first Sunday of every month at the Wicker Park Secret Agent Supply Co. All agents ages 0-4 and their grown-up accomplices welcome. Tickets are free with a $5 suggested donation to 826CHI's free writing programs.
FRESH INK: Resistance Through Self-Representation with Hoda Katebi, 5/11, 2-3:30pm
Between the prevalence of fake news and the consistent erasure of stories of the oppressed from history books, it has never been more important to have the tools at our disposal to control our own narratives, tells our own stories, and take our education and representation into our own hands. Join us for a FRESH INK community workshop with Hoda Katebi, a Chicago-based community organizer and author of the radical, internationally-acclaimed platform "Joo Joo Azad." Ages 11+ welcome for this intergenerational workshop. No writing experience neccessary.
Recommended Reads…
The 826CHI Compendium, Vol. VI is an anthology of our favorite student writing from the past two years! This collection contains poems, memoirs, stories, and essays written by over 100 Chicago students ages 6-18 on the theme of discovery. Featuring a foreword by Chicago's Youth Poet Laureate, E'mon Lauren, and three introductions by 826CHI student writers, The 826CHI Compendium, Vol. VI marks our most youth-centered, youth-led publication to date. You'll meet a star named Cheeseburger, a dragon who serves as an embodiment of wonder itself, a treatise on how to show love, and a girl who flies away with a storm of bees.
A Flower Blooming in the Dark, our 2018 Young Authors Book Project, asks readers to reconsider the negative narrative often imposed on Chicago. The memoirs and poems in this anthology offer a glimpse of Chicago as it should be seen: as a complicated, big, beautiful, messy, frustrating, wonderful city. From the magic of first love to the uncertainty of failure, from a neighborhood game of Hide and Seek to the top floor of the Hancock Building, follow along as these 100 teens help you see our city anew.

Pilsen Community Books
1102 W. 18th St.
Chicago, IL 60608
Visit the store website here
Pilsen Community Books opened in 2016. We are a new and used general-interest bookshop. We give books to local schools through our Pilsen Reads program.
For Independent Bookstore Day we will have coffee and treats all day and we'll be participating in the ChiLoveBooks Passport Challenge. We'll also be having a local artist hand-paint custom literary-themed buttons from 12-4.
Recommended Reads…
Of Human Bondage by W. Somerset Maugham.
It took me a hundred pages or so to really get into this one, but once I did I really loved it. It's the story of a young man who is trying to figure out how to live a meaningful life and it asks interesting questions about the nature of freedom and what it means to be successful.
Quimby's Bookstore
1854 W. North Ave.
Chicago, IL 60622
773-342-7910
Visit the store website here
Quimby's is an independently owned bookstore that sells independently-published and small press books, comics, zines and ephemera. We favor the unusual, the aberrant, the saucy and the lowbrow. On September 15th, 1991, Steven Svymbersky, the founder of Quimby's, opened the store in Chicago on 1328 N. Damen (at Evergreen) in Wicker Park, in a 1000 sq. ft. space. Since 1985 he had published over 50 zines with his friends, and had published Quimby Magazine for five years in Boston. Steven explained the philosophy of the store with these words: "I really want to carry every cool – bizarre – strange – dope – queer – surreal – weird publication ever written and published and in time Qvimby's will. Because I know you're out there and you just want something else, something other, something you never even knew could exist." (And yes, that was a V.) In 1997 Steven sold the store to Eric Kirsammer, the owner of Chicago Comics. Steven moved to Amsterdam with his family shortly thereafter. Eric purchased the store from Steven in order to continue Steven's commitment to the First Amendment. After a few years, the rent became too expensive to keep Quimby's at the same spot in which Steven had opened it. Eric moved it to it's current locale, 1854 W. North Avenue, to provide it with a more permanent locale. He also still owns Chicago Comics. Quimby's and Chicago Comics have a reciprocal "sister store" relationship, where we transfer materials between each other and often collaborate on ordering, outreach and off-site events.
Recommended Reads…
Conditioner by Liz Barr
Maximum Troll On by Benjamin Bergman
Careful Material by Robin Hustle
The Seminary Co-op Bookstore & 57th Street Books
Seminary Co-op Bookstore
5751 S. Woodlawn Ave.
Chicago, IL 60637
773-752-4381

57th Street Books
1301 E. 57th St.
Chicago, IL 60637
773-684-1300

Visit the store website here
The Seminary Co-op Bookstores, Inc. comprises two independent customer-owned co-operative bookstores. Founded in 1961 and located in Chicago's Hyde Park neighborhood near the University of Chicago, the Seminary Co-op has grown from 17 members at its founding to more than 53,000 today. Renowned as an exemplary academic bookstore, it attracts customers nationally and internationally, and has been hailed by such luminaries as former First Lady Michelle Obama, award-winning writer Aleksandar Hemon, and the late Pulitzer Prize-winning poet Mark Strand, who called the Co-op "the greatest bookstore in America." In the words of Co-op Director Jeff Deutsch, it is "a cultural institution disguised as a retailer."
57th St. Books was established in 1983 and caters to the literary interests of the greater Hyde Park community, in addition to housing a world-class children's department. In 2019, 57th Street Books received the Pannell Award, the most prestigious award for children's bookselling, for its "exceptional passion and creativity" in enhancing its community and helping foster a lifelong love of reading.
Besides hosting and supporting more than 600 events annually in partnership with such Chicago-based literary and cultural institutions as the Chicago Humanities Festival and American Writers Museum; maintaining an established blog and podcast, Open Stacks; and bringing to light an unparalleled selection of scholarly and general interest titles, both stores are unique and valued places of discovery, where browsing, conversation, and intellect in and outside of the academy are nurtured.
Our stores will host and support just shy of 20 events in store and throughout Chicago on Independent Bookstore Day, in concert with the Chicago Humanities Festival, Chicago Public Library, Poetry Foundation, ChiTeen Lit Fest, and others. Our in store programming includes:
Peter Filkins on H. G. Adler: A Life in Many Worlds
Carolyn Armstrong on Because of Khalid
Recommended Reads…
In addition to the titles listed below, featuring mostly in the The Seminary Co-op Bookstore's current Spring Gift Guide, Moms, Dads and Grads, the Co-op releases a weekly trove of new titles and featured recommendations from the Front Table, available on the store's blog and their e-mail newsletter.
Go Ahead in the Rain: Notes to a Tribe Called Quest by Hanif Abdurraqib
High-Risers by Ben Austen
Women Warriors by Pamela Toler
Internment by Samira Ahmed
My Hair is a Garden by Cozbi A. Cabrera
A Gentleman in Moscow by Amor Towles, appearing May 2 at the Chicago Humanities Festival
Motherhood by Sheila Heti (forthcoming in paperback), appearing May 30 for an event in partnership with the Renaissance Society

Women & Children First Bookstore
5233 N. Clark St.
Chicago, IL 60640
773-769-9299
Visit the store website here
Women & Children First began in a modest storefront in 1979. Over the years we've moved twice and are now in the northside Chicago neighborhood of Andersonville. We are one of the largest feminist bookstores in the country, stocking more than 30,000 books by and about women, children's books for all ages, and the best LGBTQ fiction and non-fiction. In 2014, our co-founders, Ann Christophersen and Linda Bubon, sold the bookstore to two of their staffers, Lynn Mooney and Sarah Hollenbeck. The change in ownership kept the store "in the family" and renewed the strength and vitality of our mission to promote the writing of women and other marginalized voices. We strive to offer a place where everyone can find books reflecting their lives and interests in an atmosphere in which they are respected, valued, and well-served.

Recommended Reads…

Women Talking by Miriam Toews
Daisy Jones & The Six by Taylor Jenkins Reid
Pleasure Activism by Adrienne Maree Brown
Please note that many independent bookstores in the Chicagoland area are participating in the Third Annual Independent Bookstore Day Passport Challenge. Learn more about the #ChiLoveBooks Challenge by clicking here.