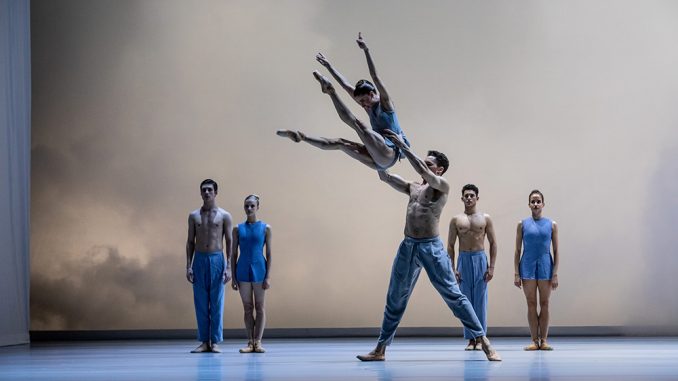 On Thursday evening, May 2nd the Auditorium Theatre was filled with an audience that was appreciative of the Joffrey Ballet's program, "Across the Pond" which featured the works of three British choreographers:  Andrew McNicol, Liam Scarlett and Andrea Walker.  "Many of the world's most exciting young dance makers are creating and showing their work in Britain," said Ashley Wheater, The Mary B. Galvin Artistic Director of the Joffrey. "We're thrilled that three of the U.K.'s top choreographers are traveling to Chicago to end our season with such a groundbreaking program of incredible range and style." 
The works presented were Yonder Blueby Andrew McNicol, Vespertineby Liam Scarlett and HOME by Andrea Walker.
For this World Premiere McNicol, who is the winner of the Kenneth Macmillan Choreographic Competition, drew inspiration from Siri Hustvedt's illuminating book A Plea for Eros, and he encapsulate the idea of distance as related to nature or people, water or the sky. The simplicity of Jack Mehler's set design with minimalist costumes and Peter Gregson's music resulted in a work that flowed, moving continually and beautifully.Yonder Blue is commissioned in honor of Mayor Rahm Emanuel and First Lady Amy Rule.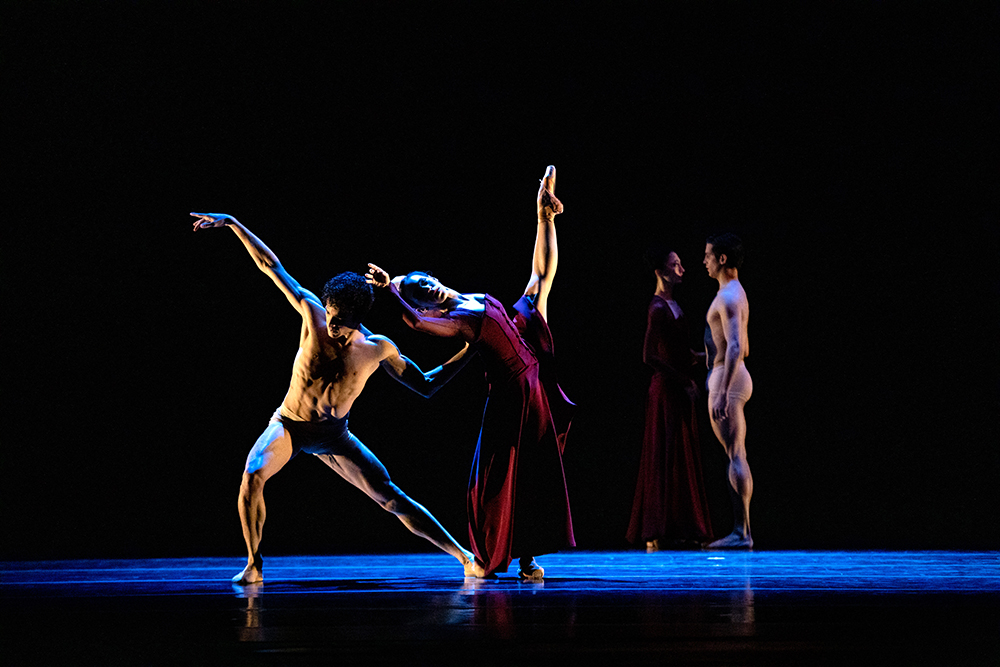 Liam Scarlett is a Royal Ballet Artist. He did the choreography and costume design for Vespertine, a work that was inspired by the music of Arcangelo Corelli. It is an abstract ballet that contrasts classicism and athleticism. The custom chandeliers made a strong statement. The baroque costumes were beautiful, especially as the women's skirts flowed with movement. The violin soloists Robert Hanford and Heather Wittels were an important part of this work.
The last work was also a World Premiere, HOME. Choreographer Andrea Walker tells the story of strength, resilience, and the nature of belonging, which was inspired by the personal stories of young DREAMers. Employing his signature fusion of dance styles, Walker explores what home means. He explains the work as an exploration of HOME within ourselves, our relationships, and our country though I found the "country" aspect difficult to find. I did find myself transfixed by this work with music by Ross Allchurch, lighting design by Jack Mehler and costume realization by the Joffrey Ballet Wardrobe Department, along with amazing dancing.
In this program, it was clear that no matter what the choreographic demands, the Joffrey Ballet rises to the top. With skill and precision and feeling, all movement was compelling and beautiful. Some people I know found this program "over the top" or a "bit too much". I felt that it gave me the opportunity to see dance that pushed the boundaries of "ballet" and all kinds of movement swept in. I left the evening energized and contemplative. Chicago audiences have a wonderful opportunity to experience some amazing dance in this program which goes through May 5th.
Saturday, May 4 at 2:00pm and 7:30pm, Sunday, May 5 at 2:00pm
Single tickets range from $35-$179 and are available for purchase at The Joffrey Ballet's official Box Office located in the lobby of Joffrey Tower, 10 E. Randolph Street, as well as the Auditorium Theatre Box Office, by telephone at 312.386.8905, or online at Joffrey.org.
All Photos: Cheryl Mann
A bit about the Joffrey Ballet–
Classically trained to the highest standards, The Joffrey Ballet expresses a unique, inclusive perspective on dance, proudly reflecting the diversity of America with its Company, audiences, and repertoire, which includes major story ballets, reconstructions of masterpieces and contemporary works.
The Company's commitment to accessibility is met through an extensive touring schedule, an innovative and highly effective education program, including the much-lauded Academy of Dance, Official School of The Joffrey Ballet, Community Engagement programs and collaborations with myriad other visual and performing arts organizations.
Founded by visionary teacher Robert Joffrey in 1956, guided by celebrated choreographer Gerald Arpino from 1988 until 2007, The Joffrey Ballet continues to thrive under The Mary B. Galvin Artistic Director Ashley Wheater and President and CEO Greg Cameron.
Special thanks to HOME World Premiere Sponsor Denise Littlefield Sobel.