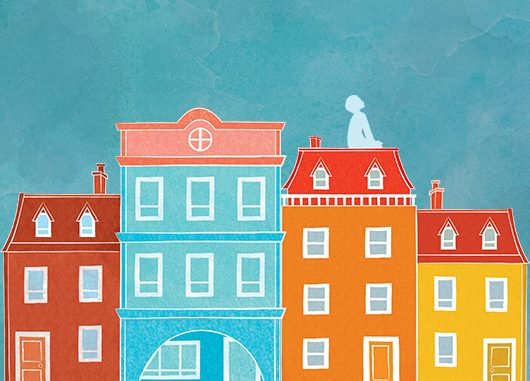 Northwestern University's Wirtz Center for the Performing Arts presents a new musical based on the life and imagination of Hans Christian Andersen. This production features songs never heard before by legendary Broadway composer, Frank Loesser. Hans Christian Andersen (HCA) will run July 13th through the 28th in the Ethel M. Barber Theater, 30 Arts Circle Drive on the Evanston campus.
Watch for the "trunk songs" by award-winning Broadway composer Frank Loesser ("Guys and Dolls" and "How to Succeed in Business"), with additional lyrics and book by award-winning playwright Timothy Allen McDonald (Roald Dahl's "Willy Wonka," and "The Musical Adventures of Flat Stanley").
Directed by Northwestern University School of Communication theater professor Rives Collins, HCA follows the inspiring coming of age journey of a young penniless storyteller who would ultimately become one of the most celebrated writers of all time. At the age of 13, young Hans Christian Andersen is the first commoner ever chosen by the King of Denmark to study at the Royal Academy. But faced with the task of leaving his provincial family behind, he is dreading the experience. Once he arrives in Copenhagen, he is swept into a dazzling world of new characters, challenges, and friends, that ignite his imagination, and inspire some of the most famous stories the world has ever known such as "The Little Mermaid," "The Ugly Duckling" and "The Emperor's New Clothes."
Just as his stories have inspired countless generations, young and old alike, this enchanting summer production is recommended for all ages. The new musical features Frank Loesser songs we know and love, such as "Wonderful Copenhagen," "Inch Worm," "Anywhere You Wander" and "Thumbelina." New songs include "Rumble, Rumble, Rumble," "Hamlet," "What is Life?" and "Everybody Sings."
The Wirtz Center will offer a relaxed performance of HCA on July 21 at 2 p.m. This performance will be adapted to provide a comfortable and safe environment for students with autism, learning differences or other sensory needs, allowing every audience member to engage with the show in a way that works for them.
Performance modifications will include:
Changes to light and sound cues to eliminate sudden changes and high-volume effects
A separate sensory room if students need a break from the performance
Trained teaching artists with a background in sensory-friendly work will be on site
Fidget toys and communication devices are welcome in the theatre
The musical's director, Northwestern theater professor, Rives Collins, is extremely pleased to bring to life HCA to the Wirtz Stage. In anticipation of the upcoming production, I was able to interview Professor Collins to get a little behind the scenes information, and to better understand why this is such an important story to bring to life:
What brought about the inspiration to create a brand new musical about the life and imagination of famous Danish author, Hans Christian Anderson?
There was a major play development process occurring in Washington DC at the Kennedy Center for Performing Arts back in spring 2018. I attended the festival to inspire new visions and new voices. At the festival, there was a staged reading of HCA, and it was a first sing through with piano, actors, and music stands (very early developmental stages). I was completely enchanted and hooked right away. There was something charming and important about it. I wrote to the playwright and wanted to continue development of the musical process at Northwestern. This will be the first fully mounted production of a new script and score.
Those titles are recognized and in numerous languages in countries all over the world. The difference between HCA and other collectors, is that some gather stories from oral tradition and shared with others. HCA is seen as the father of the modern fairy tale. All of the stories came from not oral traditions, but from his fertile and remarkable imagination. His stories stand the test of time; the reader feels like an outsider looking in, such as the ugly duckling or the little match girl. He wrote about and created characters who are vulnerable and our contemporary hearts respond.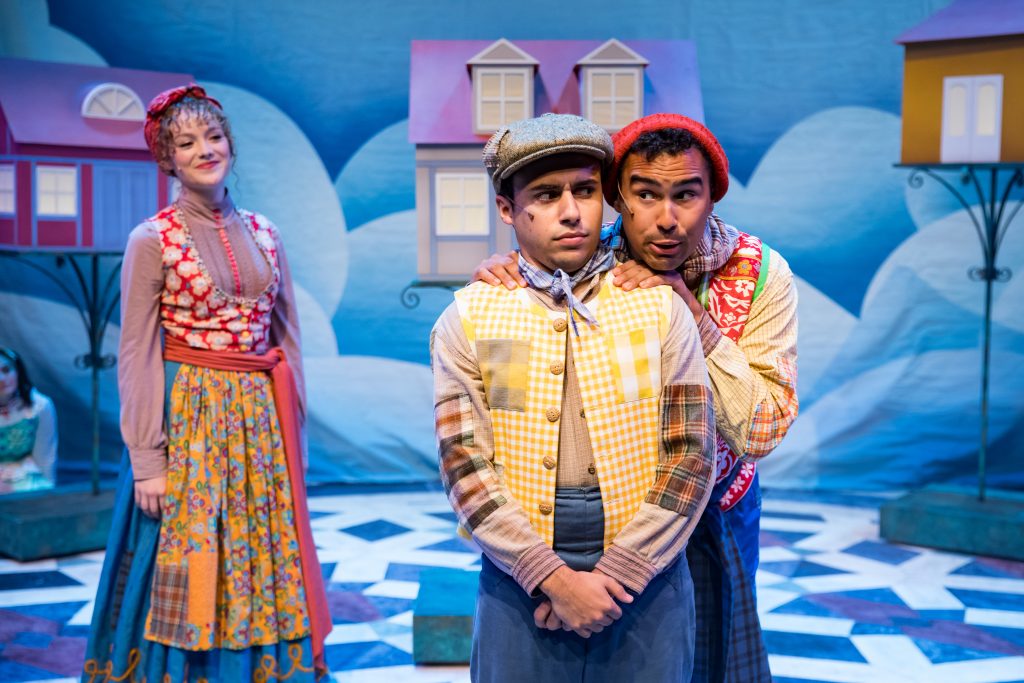 How did HCA inspire Broadway composer Frank Loesser and playwright Timothy Allen McDonald, when they were composing the lyrics and music?
Timothy Allen is a marvelous playwright. He approached the lesser estate about the creation of the new musical. The musical's songs were originally called trunk songs, which were secured deep in a vault (never published before). They are now being added to the original songs that Frank Loesser wrote in the 1950s, for a brand new book that was being written at time. The songs are woven through a new story line, that helps us understand what HCA's boyhood was like, and how his amazing stories have touched people for over a century.
HCA's actual background and life were very inspiring. He grew up in a poor family, and was the child of a shoemaker and a washerwoman. HCA lived in a difficult situation, and someone noticed his talent for telling stories, and gave him the gift of a formal education, which was very rare for commoners. By the end of his life, HCA was one of most well-known people in the world. He was very fortunate, and rose from poverty because of his gift for writing fairy tales.
The music from the show is absolutely delightful, as the set and costumes are created by professional designers, inspired by research of Danish culture.
What is the most exciting part of bringing HCA's life and imagination to life on the musical stage?
It is believing in the power of storytelling. I teach it at Northwestern University and am a professional storyteller. There is a national renaissance of a story-telling movement. I am convinced that story telling is a greenhouse of the imagination, and creates empathy. We live in a very high tech world, and have a deep longing for a high touch experience of a good story that engages our heads and hearts, which is stronger than ever. HCA is a theatrical experience that
invites us to put our cell phones down, and allows us to engage in our imagination. We are giving the ability to see the world from someone else's point of view and imagination, as well to imagine the possibilities that someone else cannot see that these are critical life skills for the 21st century. I cannot imagine a better teacher than of those life skills than HCA.
I have been working in special education for Chicago Public Schools since 2013, and am thrilled that the Wirtz Center will be offering a "relaxed" performance of the HCA musical for students with autism, learning differences, or other sensory needs. What will the performance modifications/accommodations include?
It is important to Northwestern to offer inclusion and access to its theater. It will be a sensory friendly performance which have a social story told before the performance. They will be careful with lighting effects and loud noises (making them more gentle). There will be hosts with glow sticks, e.g. if a person is taken by surprise, will take control over those movements. There will also be fidgets and spinners. Northwestern has a "no shushing policy," which means families do not have to feel ashamed in the audience during the show. A friendly quiet room will be offered if needed.
Another exciting thing to note is that there will be a guest artist in the show who uses a wheelchair, Jessie Yates, who is joining a very dynamic cast of eight undergrad actors from Northwestern. She will play the character of Princess Caroline, versus an able-bodied performer. Ms. Yates is an actor and singer who has cerebral palsy. Princess Caroline is hidden away during the show as if it will reveal her weakness. However, by the end of the play, she refuses to be invisible. She is smart, strong and reclaims her visibility. It is a fairy tale within a fairy tale.
HCA is a piece of theater for all ages such as the Sound of Music is for all ages. It is family theater and we are celebrating the past generations, and new generations, who will be hearing it for the first time. Theater brings all the different generations together.
Photos: Justin Barbin
The Wirtz Center celebrates the opening of "Hans Christian Andersen" with $12 "Be a Kid for a Day" tickets at 11 a.m. and 2 p.m. on July 13. Performances continue through July 28.
Showtimes are 7:30 p.m. on Fridays, 2 p.m. and 7:30 p.m. on Saturdays and 2 p.m. on Sundays.
Tickets are $20 general admission, $15 for seniors (62+), area educators and NU faculty and staff and $12 for full-time students and children 18 years and under.
Playwright Timothy Allen McDonald joins the director and cast for a post-show discussion with the audience July 13 after the 2 p.m. performance.
Tickets and more information are available on the Wirtz Center website. Beginning May 16, tickets can be purchased by phone at 847-491-7282 or in-person at the Wirtz Center box office, located in the lobby of the Ethel M. Barber Theater, 30 Arts Circle Drive.
Box office hours are 10 a.m. to 5 p.m., Tuesdays through Fridays and noon to 4 p.m. on Saturdays. The box office is closed on Sundays and Mondays.
The Wirtz Center is a member of the Northwestern Arts Circle, which brings together film, humanities, literary arts, music, theater, dance and visual arts.