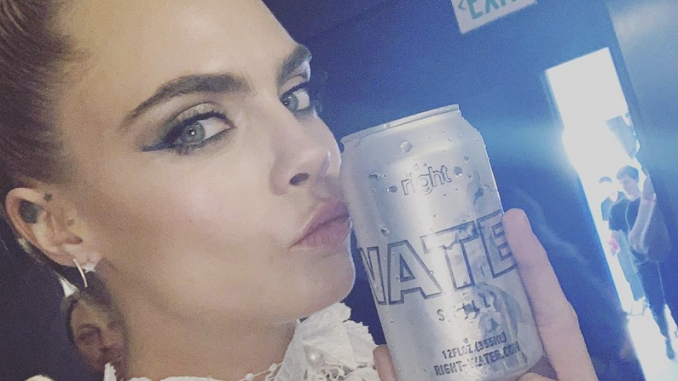 RightWater announced today the launch of their US-based canned spring water brand as the leader in the Zero Plastic Movement. The modern-thinking and socially responsible company boasts a plastic-free solution to the growing epidemic of harmful plastic waste by ethically packaging responsibly sourced water from natural springs in 100% recyclable aluminum cans, all without ever using plastic or BPA leaving no carbon footprint. The spring water is from a protected natural spring in California, chosen for its perfect mineral content, zero nitrates and ideal pH balance optimum for water consumption.
Recent studies have shown that over 9 million cans are recycled every hour; worldwide, aluminum recycling prevents close to 170 million tons of greenhouse gases from entering the environment every year. RightWater is proud to be a part of this solution as the only method of single-serve water supported by Greenpeace, and also aids in alleviating the World Water Crisis by partnering withDROP4DROP, a charity whose mission is to provide sustainable water solutions in some of the most water-stressed communities across the world. Every RightWater can sold funds clean drinking water projects, which have reached 1.4m people to date.
"RightWater canned spring water was created as the zero plastic solution to the growing problem of plastic single-serve bottles polluting the environment. After extensive research and consultations with Greenpeace, it became clear that cans are far more sustainable than plastic bottles," says Simon Konecki, Founder. "With their support, we knew we wanted to make infinitely recyclable aluminum cans, BPA-free that left no carbon footprint and could be reused to produce more cans. We're proud to be leading this plastic-free movement."
Established with the forward-thinking and socially responsible individual in mind, RightWater has designed a sleek and beautifully crafted aluminum can for progressive consumers looking for environmentally friendly options in their day-to-day purchases. Every can is also sealed from light and air for lasting freshness. RightWater will be sold nationwide in 12-ounce cans, 20 can cases, and pallets of 2400 cans.
"We hope that the major beverage companies, who are the biggest plastic bottle polluters, listen to their customers and join the plastic-free movement, as well as contribute to clean water projects around the world," adds Konecki. "Until then, the power is with consumers as they choose which brands to purchase."
To learn more about RightWater, visit www.drinkRightWater.com, or connect via social media through Instagram at @drinkRightWater and Facebook at @drinkRightWtr.