San Francisco, CA, USA – Groundhog Day the Musical made its San Francisco debut recently at the San Francisco Playhouse.
This is the zany story of one man's forced self-reflection and emotional metamorphosis via repeatedly awakening to a "do over" of the same day. Under the brilliant direction of Susi Damilano, the production is both entertaining and thought-provoking and offers a laugh-out-loud rendition of the original film story with a few spotlights to modern-day social concerns.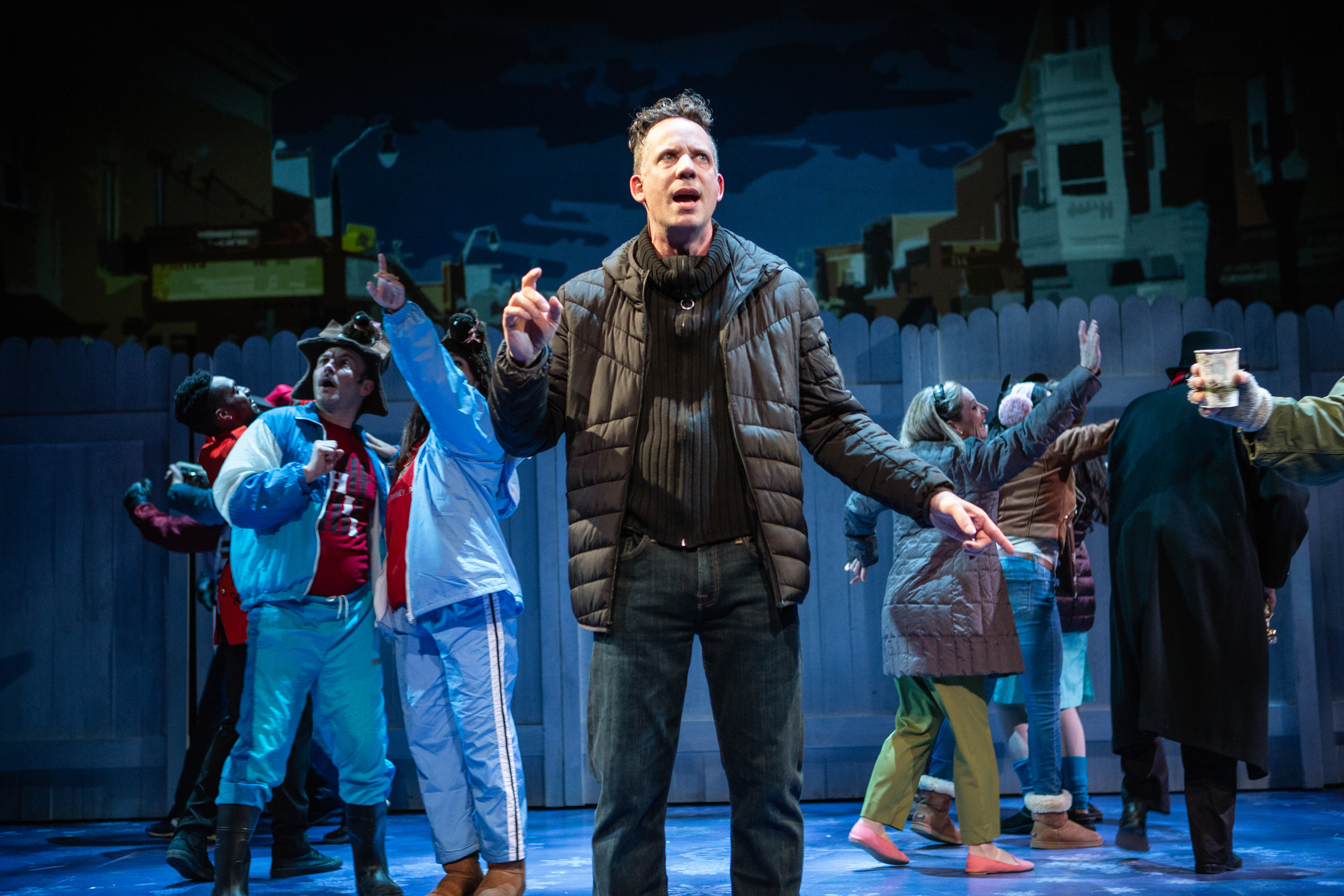 Using as foundation the beloved 1993 film story in which big-city weatherman Phil Connors is forced to do small-town reporting on the weather prediction of the beloved groundhog, Punxsutawney Phil, Tim Minchon (original screen writer) and Danny Rubin (book author) serve up a stage version that is sure to please.
Bear in mind: this is a musical, and one needs to be ready to be rocked by the sensation of being both seated in the beloved San Francisco Playhouse and also watching an ongoing parade.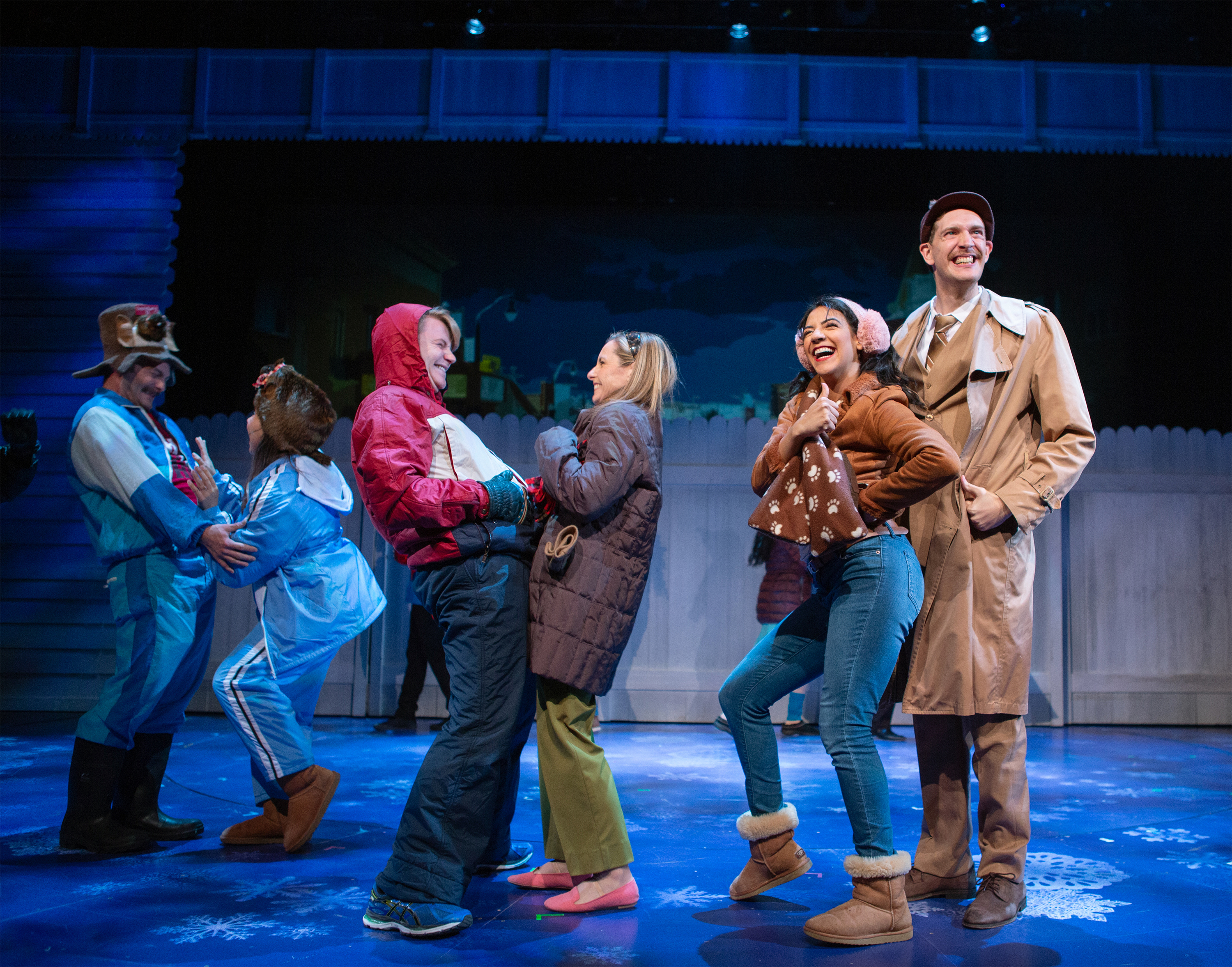 The stage bounces alive with the full cast's rendition of "There Will Be Sun," the town folks' collective affirmation that, frankly, no matter if "Phil" sees his shadow or not, at some point the sun- and spring- will come along. And that's just fine. It's an honest number that sets the tone for what Minchon will unwrap for us as the story develops.
Arrogant and cynical, the main character is forced to adapt or stay stuck in a social setting in which he's never wanted to be. His initial epiphany- with the "do overs" he can get away with whatever he wants to do- provides great humor to a certain point. His second epiphany- that he must come to terms with the people and things that he's not only been eschewing but also has ignored- is heart-wrenching but (spoiler alert) satisfying.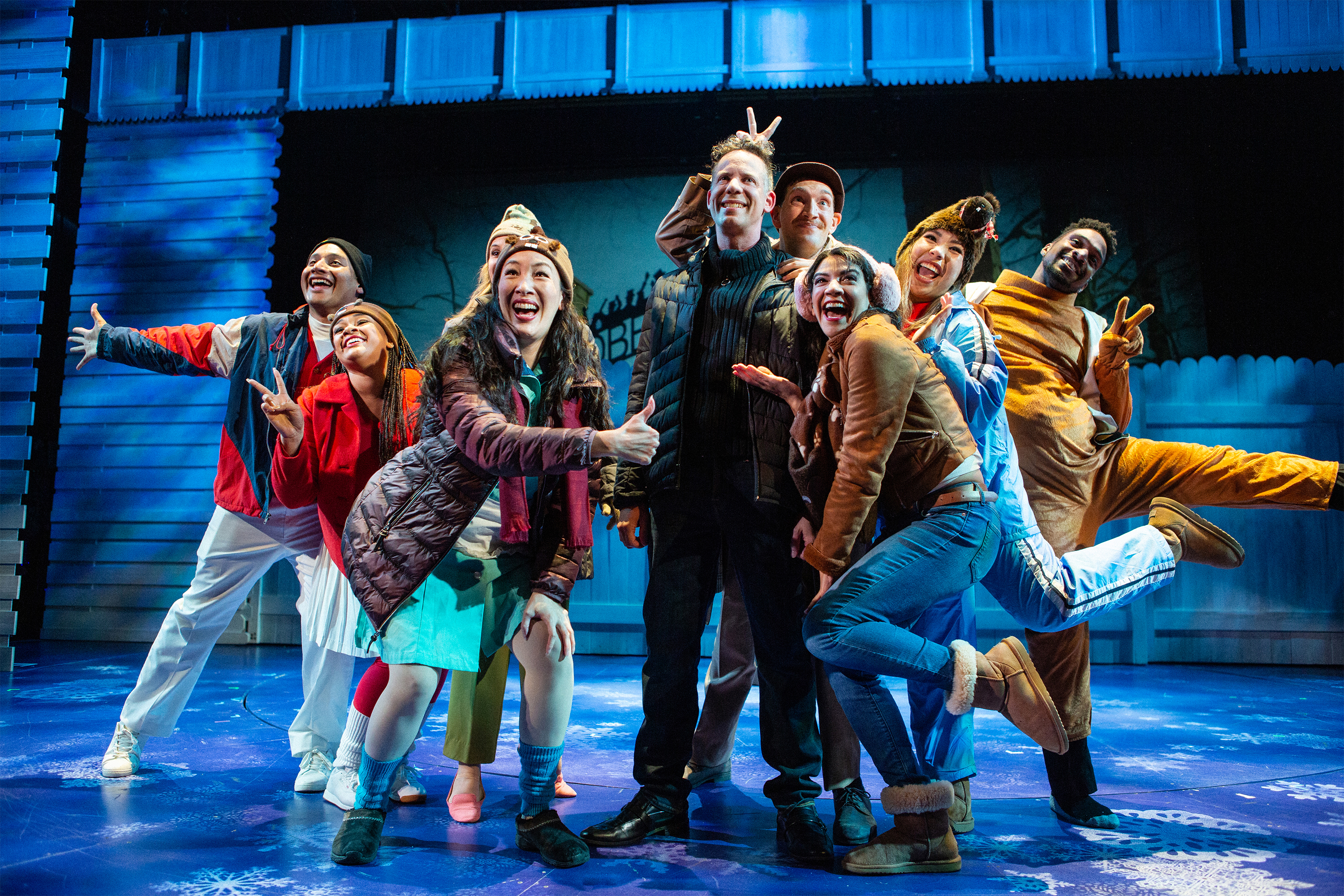 While the repetition (figuring prominently in both screen and stage version) could be assumed "formulaic," the energy and talented cast keeps things moving along to the point we don't realize we've begun to tap our feet in time to the tunes. Working with a live orchestra behind the scenes, Music Director Dave Dobrusky and choreographer Nicole Helfer add extra "oomph" to the parade-like feel with sound effects and comedic on-stage dramatizations.
The first half of the show shines from beginning to end. The cast truly seemed to be enjoying themselves as they vamped the camp the score provides them, reveling in playing townsfolk who call a groundhog "hero."
Amid all the singing, dancing, twirling, and fun, the audience is given an opportunity to not only look at the ways in which each of us can come face-to-face with our perspectives on life and grow, but also to be awake and open to the experiences of others around us. The main character realizes he's passed over a school chum in his direst hour, a young woman who is open and vulnerable to the predatory practices of young men like himself, another single middle-aged woman who has "had it" with the immaturity of most men she's encountered in her lifetime, and a man presumably without a home who might very easily fade into society's background and into a quiet and anonymous death.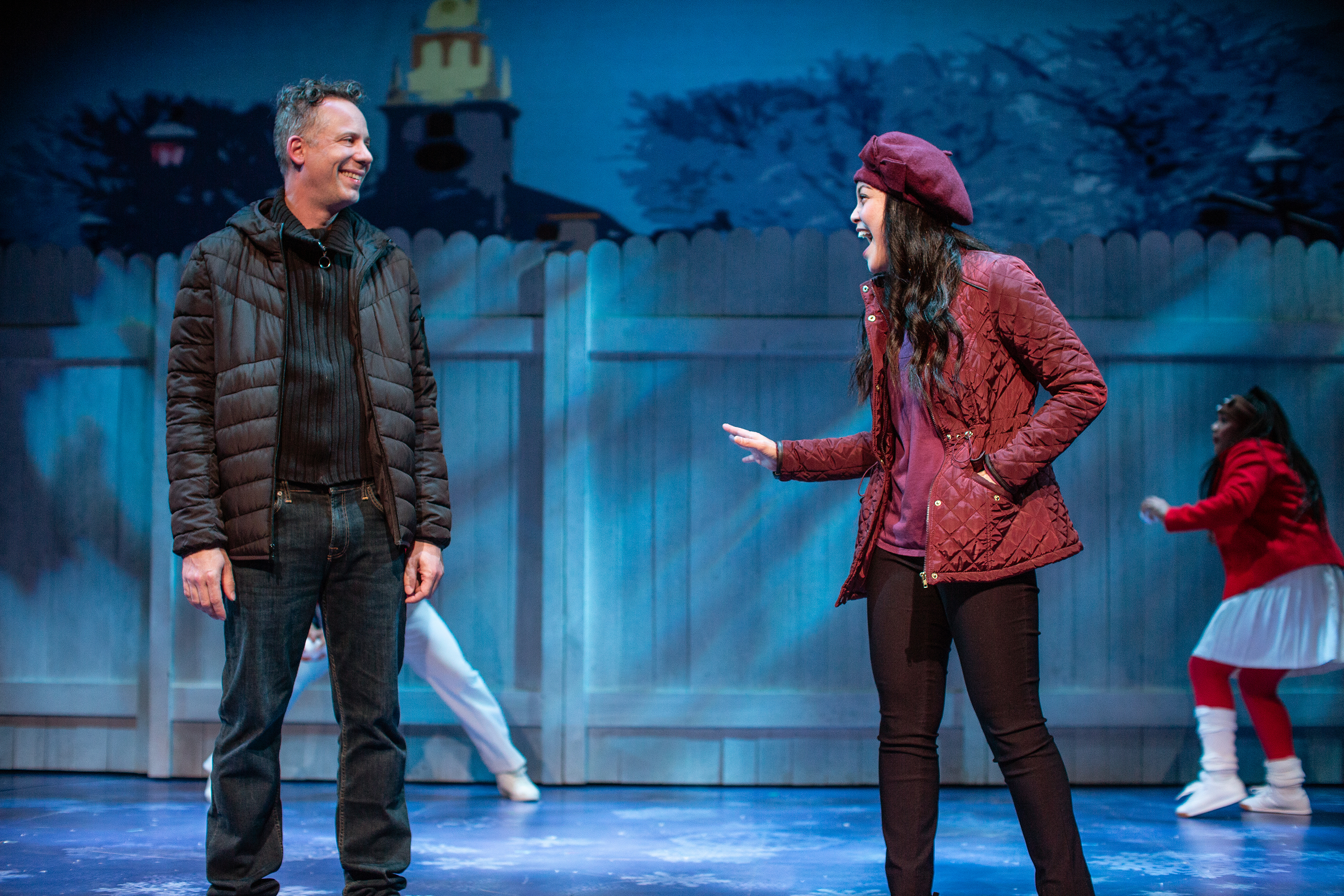 Several solo vocal performances are stunningly provocative. "Playing Nancy" (Sophia Introna) is a moving and surprising number that calls positive attention to the character who is "every" or "any" girl and been the life of the party and then forgotten. The second, "If I Had My Time Again" (Rinabeth Apostol) sung by the female lead character/love interest, Rita, is a toe-tapping and up-yours-in-a-good-way tale of bypassing silly men.
"The character, Rita is 36," Apostol said after the press preview. "This is a time when most women want to settle down; most women grapple with this." Please note: Phil Connors is not the only character having an epiphany. 'Nuff said there.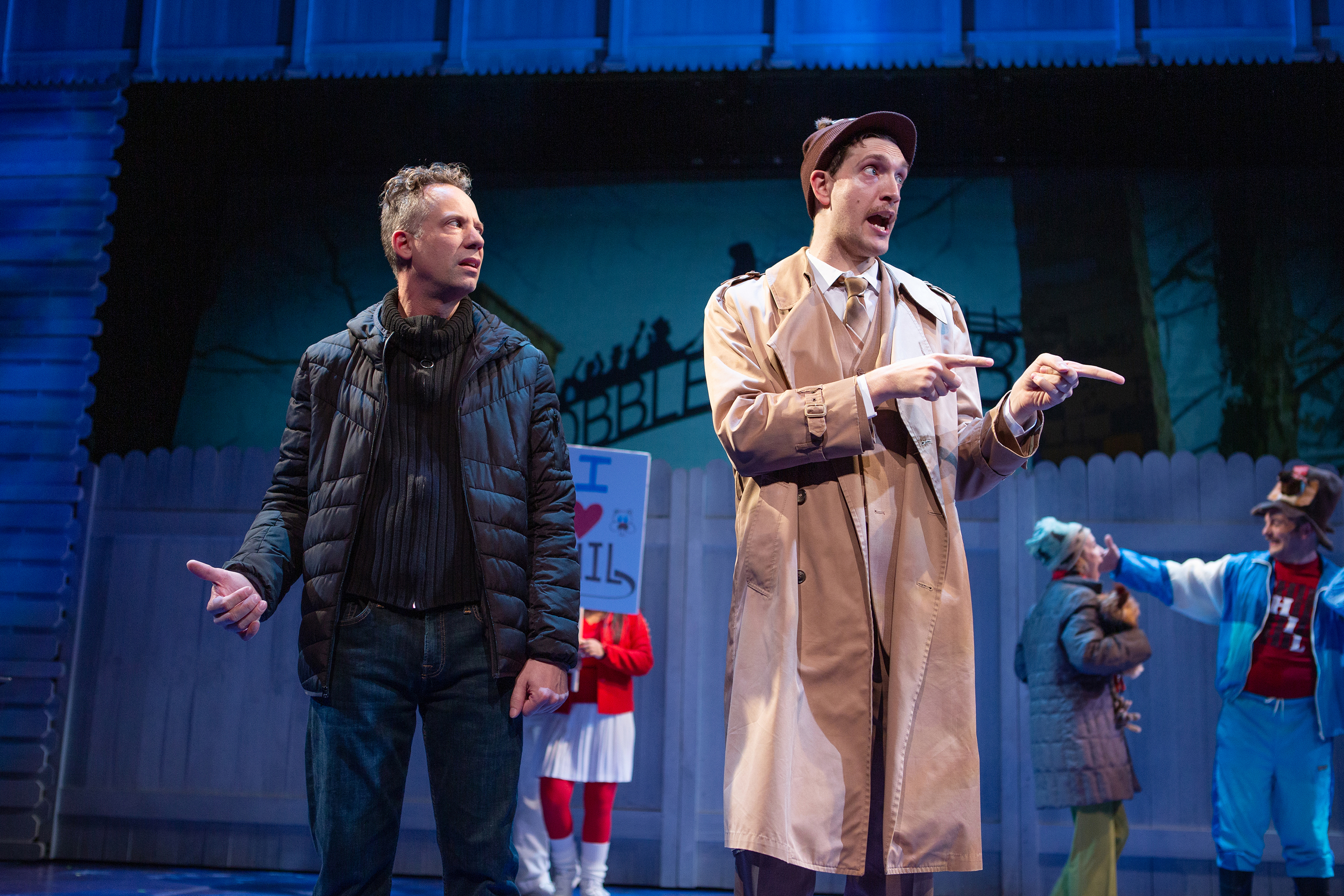 Lastly, "And Night Will Come" (Dean Linnard) sung by the character Ned Ryerson, is a valentine to the classmate Connors has conveniently forgotten because he's classified him as "nerdy" or unworthy of remembrance. All of these are brilliant vocalizations, inspiring and convicting, and all with memorable lyrics encouraging hearers to recognize the unrecognized- including the homeless as well as those who would otherwise have no voice…
Kudos to the set design team who produced moving pieces that added to the vibrancy of the cast's repeats of each day. From the entrance, over and over, of the bed from which the main character would awake only to find that he was "stuck" in the same day (being greeted by recorded voices on this radio courtesy of Ed Johnson and Sarah and Vinnie, the morning hosts at [email protected]), to the entire cast bidding adieu to each re-vamped version of that same day, we get a feeling of complete closure. This added even more energy to the show; there was never a moment when the production lagged.
The themes of empathy and redemption shine through as we watch the main character morph from narcissist to nice guy. And while repetition serves as a tool to both add emphasis and also literary artistry, Scripture reminds that God will bring the same issues to us again and again to have "do-overs" in order to show God's love for us; we are to persevere in doing what is right and good… (Rom2:4,Gal 6:9, 2 Thess 3:13) Complementing this ideal, a reviewer for Philosophynow.org, Michael Faust, claims Groundhog Day is a "masterpiece of existentialism," saying further "the (story's) lesson is that we can escape from whatever dilemma we're in by adopting the correct attitude." Sounds like great advice…
Groundhog Day the Musical serves up brightening, toe-tapping entertainment through January 18, 2020, and this show could be just the antidote needed for the holiday (or post-holiday) "blues."
It's impossible to leave this play feeling down, and you are enthusiastically encouraged to get out and see it soon … there are no performance "do-overs"!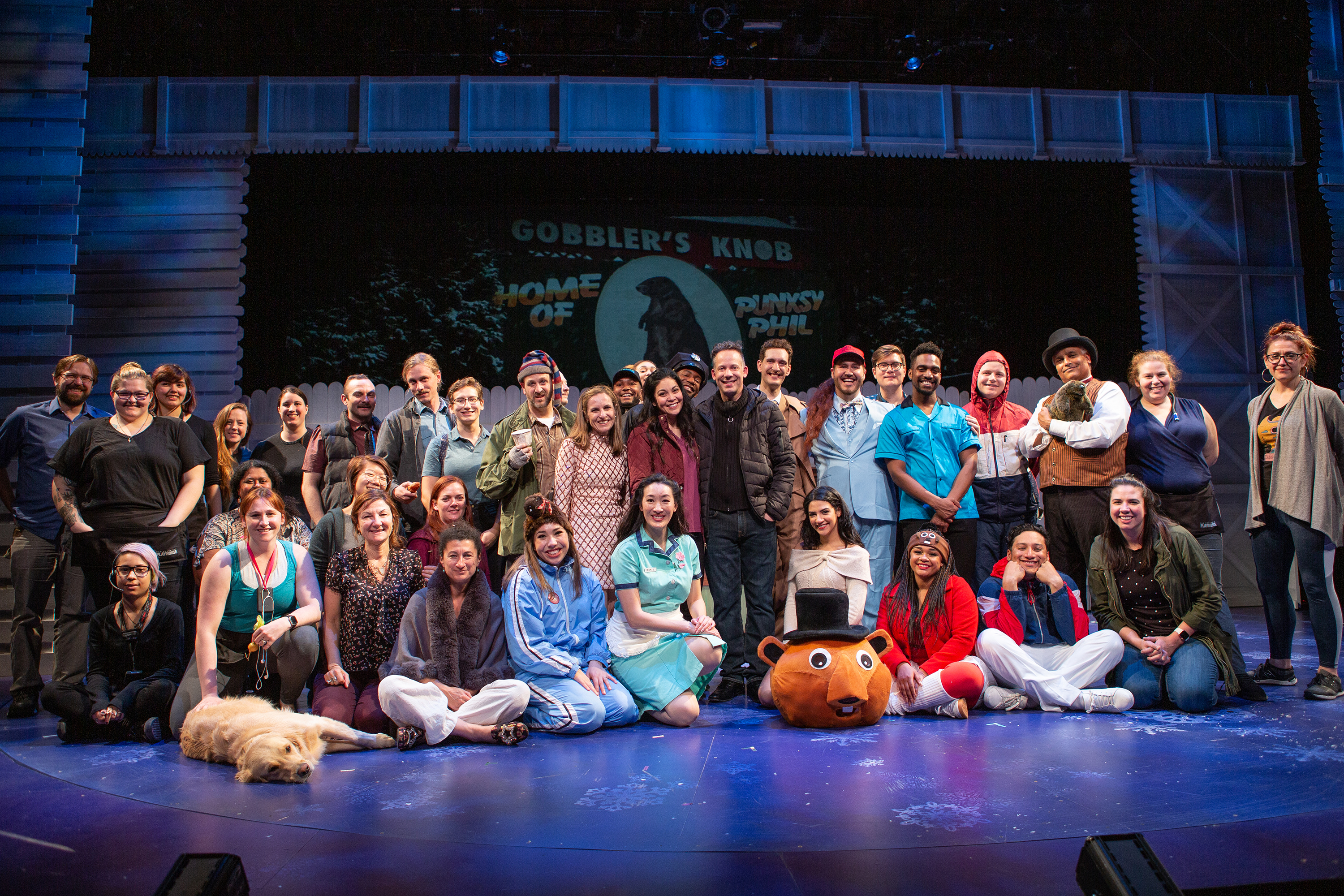 Text ©2019 M. D. Caprario
Production photos by Jessica Palopoli. courtesy of San Francisco Playhouse
The San Francisco Playhouse cast includes Rinabeth Apostol, Jorge Luis Diaz, Ryan Drummond, Kathryn Han, Sophia Introna, Larissa Kelloway, Cameron La Brie, Dean Linnard, Michael Motroni, Montel Anthony Nord, Danielle Philapil, Anthony RollinsMullens, David Schiller, Loreigna Sinclair, Michael Gene Sullivan, and Scott Taylor-Cole.
San Francisco Playhouse's production of Groundhog Day the Musical is made possible by executive producer Robert Hulteng; producers Fred & Leslie Karren and Phylis & Jerry Rosenberg; associate producers Tom & Stephanie Lima and Edwin & Peggy Mihm; and artistic sponsors Fred Karren, Gary Glaser & Christine Miller, and Ruth & Les Finkelstein.
WHEN: November 20, 2019 – January 18, 2020 Tuesday, Wednesday, Thursday and Sunday at 7 p.m.; Friday, Saturday at 8 p.m. Matinees: Saturday at 3 p.m. and Sunday at 2 p.m.
WHERE: 450 Post Street, San Francisco, 2nd floor of the Kensington Park Hotel
TICKETS: For tickets ($35 – $125) or more information, the public may contact the San Francisco Playhouse box office at 415-677-9596, or online at:
https://www.sfplayhouse.org/sfph/2019-2020-season/groundhog-day