By Bob Nesoff
The winter exodus from the North and Canada to Florida annually takes on the look of an old camel caravan crossing the desert.
OK, so there is no desert and if you are driving, do it quickly and you won't see any snow.
So many people opt to drive instead of flying so that they have a means of transportation for the three to four months they are in the Sunshine State. Cheaper by far than renting for the extended stay. And, a must to take into consideration is the fact that there aren't always rental cars available and when they are, there are so many tack-ons that you may as well buy the darn thing.
So there is a pool in the community you've rented…or where you own the Snowbird Castle. Cards, golf, gossip, sure, all of that but even that gets boring after a while. What else is there to do?
If you don't mind walking at an indoor, air-conditioned venue, there are several. Go shopping. One destination with enough options is located in Pompano Beach where you can wander, walk a lot and get your steps in, and either spend money or just peruse close to 200 possibilities.
The Festival Market Mall on Sample Road between I-95 and Florida' Turnpike is one option that rarely disappoints. The variety of everything from international food to jewelry to clothing and luggage to carry everything you've bought is available in an indoor setting that runs for almost a quarter of a mile.
You don't even have to buy anything. Just wandering through the mall is an experience. Virtually without exception the shopkeepers are friends and will even stop to chat if they aren't busy.
We had been here about five or six years ago and the major purchase was a tee-shirt commemorating the terrorist attack on the French magazine, Charlie Hebdo. The inscription on the shirt was "Je Suis Charlie," loosely translated "Follow Charlie" or "I am Charlie," showing support.
The shopkeeper, a petite French woman asked if we were journalists because there was not a big demand for the shirt. Last month after walking into a tee-shirt booth she actually remembered the encounter. That typifies the people in this mall.
At the Golden Bay jewelry pavilion the owner, Asi, took great care to ensure that a ring being purchased fit comfortably. He said that after a day or two if it isn't comfortable, come back and it will be made right at no charge.
The Golden Bay, one of the larger shops at the Festival Marketplace, sells fine jewelry, possibly more than any of the others. We opted for a gold ring with a large black onyx stone. Asi's sales rep who was dealing with us, did manage to lower the price after we asked. It came out to be a fair price and they were happy with the sale as we were walking away with the ring. Asi himself took care of properly sizing it.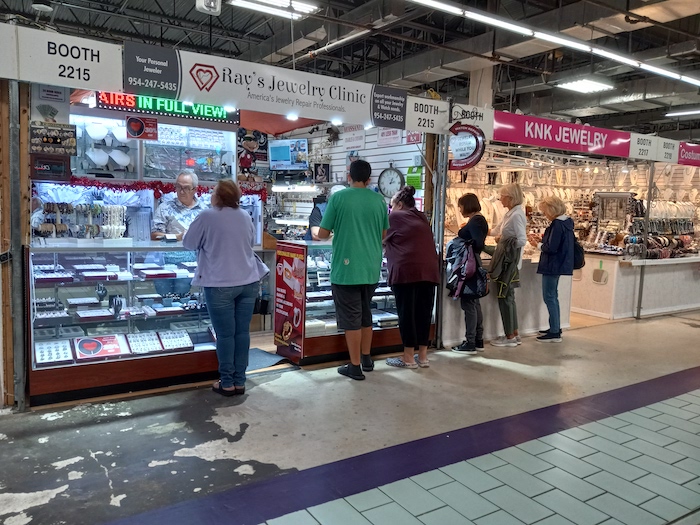 An interesting spot was a shop called the "La Hacienda Kosher Grocery." No one working there seemed to know why it bore that name. Nor could anyone explain why a shop with a sign at the front advertising "Glatt Kosher Food," aimed at the practicing Jewish population, had a big section in its cooler selling a variety of bacon and other similar foods. One of the mysteries of entrepreneurship.
The food court is a blaze of neon and food from a variety of international delicacies. There are the required Asian counters, Mexican, Italian and more. There is a seating section with far more than ample tables and it is kept meticulously clean. The window wall brings in sunlight that brightens the area. And there is often live entertainment.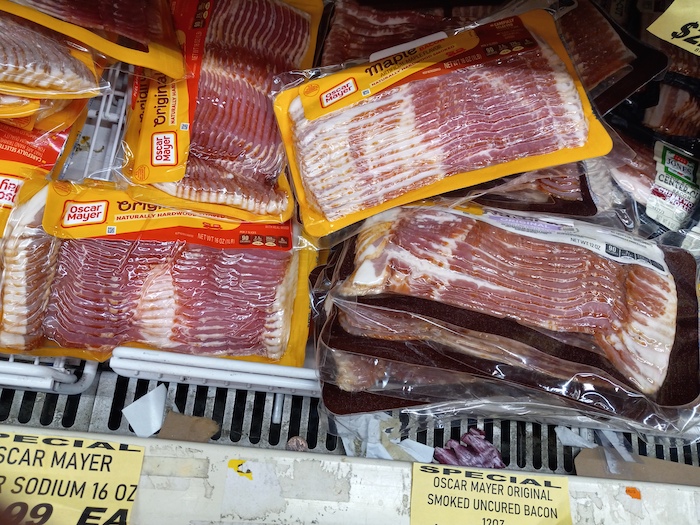 There are also a multitude of souvenir shops, art shops (beware of signs that say "Going Out Of Business," or "50% Off." We had some serious doubts after looking at a piece of artwork depicting the Eiffel Tower." We passed.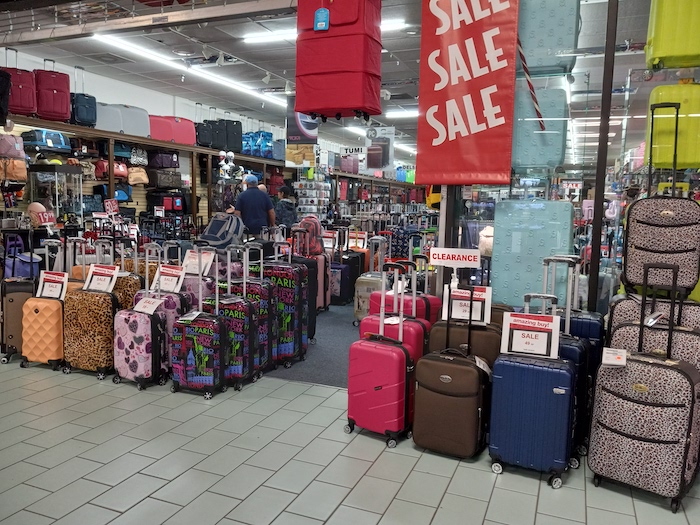 There is, however, an art booth that should be looked into. "Artists With Autism" features beautiful artworks created by artists on the Spectrum. The works of art featured here are amazing and a purchase goes a long way.
Festival Market Mall is is located at 2900 West Sample Road in Pompano Beach. There are Sample Road exists on both I-95 and Florida's Turnpike. While there are tolls on both roads, it should be noted that they are pennies in comparison to most Northern toll roads. The mall is located pretty much in between the Palm Beaches and Miami. The roads are wide and move traffic along quite nicely.
All photos: Bob Nesoff