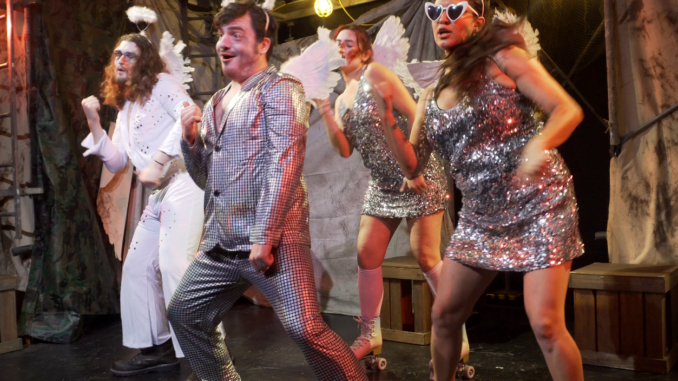 Zombies, rock music, and an apocalyptic earth – topics to raise goosebumps while swaying to the beat. In her debut play, author Holly Anne Mitchell sums it all up in this powerhouse piece on loss, hope, love, and redemption. On top of that, she composed the music with Grady Land, wrote the lyrics, produced the show, and stars in the epic as Sadie, a blind beauty who is abandoned by her group of survivors when her dad is killed.
The time is the day after tomorrow – the day when the world nearly ended and left only a few survivors to rebuild society. Unfortunately, the apocalypse also produced a rare and incurable blood disease which turns survivors into zombies – and it takes only one bite by an infected person. As Sadie stumbles around trying to handle an impossible world, she meets a group of survivors who seem to be forming a society under the leadership of General Baldwin (Ian Reier Michaels). She also meets the very peculiar Harold (Isaac Tipton Snyder), a man who exists in a world between human and zombie – and seems to be immune to the disease that has terrorized the survivors. Sadie's odyssey in this Armageddon forms the story line – with lots of rock songs and dances thrown in. As she goes from catastrophe to calamity, she never gives up hope that life will go on.
Kudos to the production team who created a full house of zombies, bloody bodies and all, as well as a ragged bunch of survivors living in a hell-like world crumbling around them. Directed by David Dickens, BLOOD SUPPLY lives up to its name – it remains gory and scary in stages. With choreography by Gina Rizzo Bishop, the cast demonstrates their acting and musical chops.
BLOOD SUPPLY alternates between whimsical and demonic. As such, its audiences may be limited to people who enjoy tales of zombies, aliens, and otherworldly beings. There was also an amateurish quality to the production which could not be dimmed by the enthusiasm of the cast. This is definitely a piece which will appeal to audiences who are looking for escapism and are willing to suspend reality to achieve that goal.
BLOOD SUPPLY: A ZOMBIE APOCALYPSE LOVE STORY runs through February 11, 2023, with performances at 8 p.m. Fridays and Saturdays and at 7 p.m. on Sundays. Theatre 68 Arts Complex is located at 5112 Lankershim Blvd., North Hollywood, CA 91601. Tickets are $32.