By Kathy Carpenter
Sometimes you just need fun. The San Diego Musical Theatre presents Cole Porter's "Anything Goes." It is directed by the brilliant and extremely funny performer Omri Schein, with choreographer Xavier J. Bush, and musical director Van Angelo.The musical is wickedly delightful, fresh, sparkly, and gives you an afternoon of joy. "Don't worry about anything. Go out and have fun," Richard P. Feynman.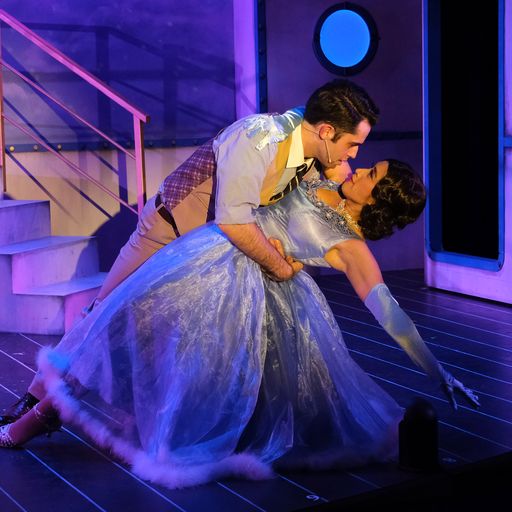 "Anything Goes" is a musical comedy that premiered on Broadway in 1934 with music and lyrics by Cole Porter and a book by Guy Bolton, P.G. Wodehouse, Howard Lindsay, and Russel Crouse. The plot centers around the antics of a group of passengers on an ocean liner traveling from New York to London.
The story begins with the wealthy and beautiful Hope Harcourt, who is engaged to the British aristocrat Lord Evelyn Oakleigh. However, Hope is still in love with her former flame, Billy Crocker, who stows away on the ship to try to win her back. Meanwhile, gangster Moonface Martin and his moll, Erma, also sneak aboard disguised as a minister and his wife.
As the ship sets sail, Billy tries to win Hope's heart but is thwarted by Lord Evelyn, who is determined to marry her. Moonface and Erma cause chaos and confusion but eventually help Billy and Hope to be together. Along the way, there are many classic Cole Porter songs, including "You're the Top," "I Get a Kick Out of You," and the title song, "Anything Goes."
The musical features a large ensemble cast, including a chorus of sailors, and a cast of colorful characters. The show is known for its fast-paced humor, witty dialogue, and catchy tunes, and has been revived numerous times on Broadway and in theaters around the world.for over ninety years "Anything Goes" remains a beloved classic of the musical theater genre. Many moons ago, I was in a church version of the show and have loved "Anything Goes," ever since.
The actors were spot on. Allisson Sprat Pearce, plays nightclub singer and former evangelist, the charismatic Renio Sweeney. Moonface Martin, public enemy number 13, is played by extremely funny Elliot Goretsky. The young Wall Street broker, Billy Crocker, is played by Anthony Michael Vacio, is hopelessly in love with Hope Harcouirt. Hope Is wealthy, beautiful, and engaged to Lord Evelyn Oaklleigh. Hope, played by Christianne Holly Santiago, is conflicted over her feelings for Billy.
Lord Evelyn Oakleigh, is a wealthy British aristocrat. He is awkward, naive, and constantly confused by American culture. Jasmine January does an amazing job as Moonface's moll and sidekick, Erma a ditz often used as comic relief. She is flirtatious, brash, and always up for a good time. Other notable characters include Elisha Whitney, Billy's boss; Mrs. Evangeline Harcourt, Hope's overbearing mother; and the ship's crew and passengers, who add to the show's lively ensemble numbers.
Several energetic dance numbers, including an incredible five minute tap number, and a crazy fun waltz, added to the effervescence and happiness of the show. Whether you are drawn to the music, the dancing or the charming characters, don't miss this show.
Anything Goes
San Diego Musical Theatre
Thru March 12, 2023
4650 Mercury Street, San Diego
858-560-5740
Coming Soon
Xanadu
May 5- June 4, 2023